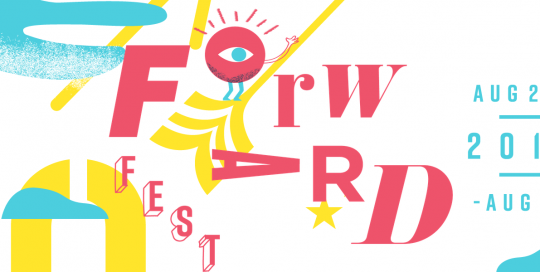 10th Annual Forward Festival
August 22-29, 2019
50+ Events – By Entrepreneurs for Entrepreneurs
The 10th Annual Forward Festival is going to be the biggest and best yet! Since starting in 2010, the Forward Festival has been Madison's flagship technology and entrepreneur festival. The 8 day Festival now attracts over 5,000 people with events organized by entrepreneurs, for entrepreneurs. Co-founded by SupraNet's Bryan Chan, the Festival will celebrate its tenth year of bringing together entrepreneurs, techs and creative professionals from August 22-29 with 50+ innovative events that are open to the public.
You'll want to mark your calendars and join SupraNet Communications and numerous other community groups and businesses for a variety of exciting events this August! Continue to visit www.forwardfest.org for current event listings, ways to get involved and registration information.
Events such as the Badger Startup Summit, Doyenee 5x5x5, Social Media Breakfast, Social Good Summit, Data for Impact and the Capital Entrepreneurs Open Social are just a handful of the exciting events that attendees have to look forward to.
High Tech Happy Hour, hosted by SupraNet Communications and Yahara Software, will help kick off the 2019 Forward Festival on August 22nd with a special 3 hour 18th anniversary celebration at the UW Memorial Union – Tripp Commons. Towards the end of the Festival, on August 28th, "Forward Fest X PechaKucha" will highlight speakers from the entrepreneur ecosystem sharing their latest ideas, innovations and plans for the future.
Visit the Web links below for more information. See you there!
High Tech Happy Hour's 18th Anniversary Celebration
August 22, 5:00 – 8:00 p.m.
@ UM Memorial Union – Tripp Commons
www.hthh.org
High Tech Happy Hour has been the premiere networking event in Madison, WI since 2001. Bring your friends and join us for the special 18th anniversary celebration! The event is sponsored and hosted by SupraNet Communications and Yahara Software.
Forward Fest X PechaKucha
August 28, 5:00 – 8:00 p.m.
@ Monona Terrace
www.hthh.org
Join us on August 28th for "Forward Fest x PechaKucha" as our speakers showcase innovative and creative ideas that elevate Madison and surrounding areas to the next level. PechaKucha is one of 50+ events during the 10th Annual Forward Festival; bringing together entrepreneurs and creatives in an 8 day celebration of innovation and collaboration.
https://www.supranet.net/wp-content/uploads/2023/03/SupraNet-Logo-300_4C-300x300.png
0
0
SupraNet Team Member
https://www.supranet.net/wp-content/uploads/2023/03/SupraNet-Logo-300_4C-300x300.png
SupraNet Team Member
2019-06-04 19:20:45
2023-03-01 15:38:59
2019 Forward Festival