Seven Essentials for Data Center Maintenance + Data Center Health Checklist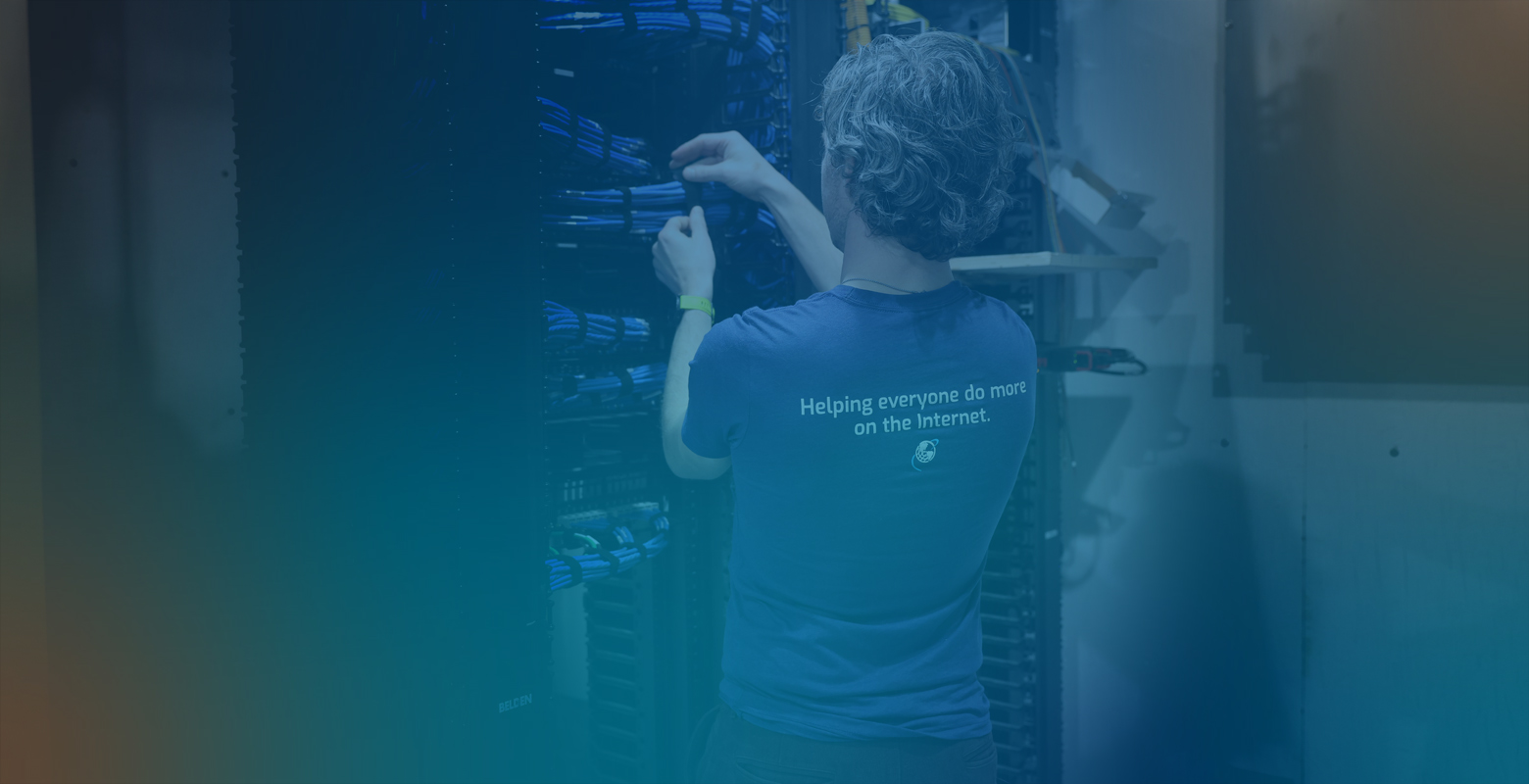 How many days a week does someone in your office check in on the environment of your data center?
Whether a data center is used mainly for storage, disaster recovery, or supporting applications, it likely houses the backbone of your business. If that house is too hot, too cold, too humid or too dusty, or you don't have backup power and Internet – at best you are wearing out your equipment faster than needed. At worst, you could be setting yourself up for major revenue loss if one of your machines fails or your office loses power.
Is your data center neglected with remote or hybrid staff?
With the new hybrid or remote model of working, you may have less people in the office. You may not have anyone in the office for several days at a time. If that's the case, then you may want to consider moving your equipment to a data center to ensure your equipment experiences the longest life possible while saving trips into the office and allowing you and or your IT staff to focus on more creative and strategic aspects of your business. If a move isn't right for you we've created a checklist that can help ensure your data is in an optimal environment.
Data Center Compliance and Regulations
Ensure your data center complies with regulations set within your industry. For example, industries such as finance, insurance, and e-commerce are prime candidates for SOC 2 Type II compliant data centers.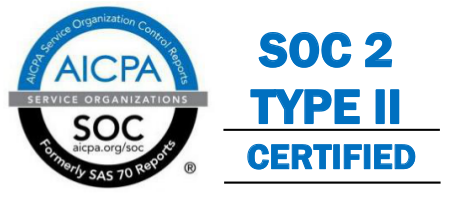 Redundant Power Supply for your Data Center
The primary benefit of redundant power lies in its ability to provide a fail-safe mechanism. In the event of a primary power source failure, the redundant system immediately takes over, preventing any disruption in services. This redundancy significantly reduces the risk of unplanned outages, ensuring that critical applications and services remain online and accessible to users at all times.
What to do:
Have a dedicated circuit for your data center
Install battery systems and generators, making sure they are serviced regularly
Install automatic transfer switches
Have 24/7 power supply monitoring systems in place
Data Center Temperature Control
Storing computers in extreme temperature conditions, whether too hot or too cold, can have several adverse effects on their performance, reliability, and lifespan. Here are some potential temperature issues and the damages they can cause.
Overheating:

High temperatures can cause computer components to overheat, leading to system instability, crashes, and potential hardware damage.
Heat can shorten the lifespan of electronic components, such as processors, graphics cards, and hard drives.
Continuous exposure to high temperatures can result in thermal throttling, where the computer slows down its performance to prevent overheating.
Excessive heat can lead to increased wear and tear on mechanical components, potentially leading to data loss and drive failure.
High temperatures can degrade the battery life.

Cold Temperatures:

Cold temperatures can make hard drive platters more brittle, increasing the risk of damage and potential data loss.
Cold temperatures can reduce a battery's ability to hold a charge and limit its overall lifespan.

Thermal Expansion and Contraction:

Frequent exposure to temperature fluctuations can cause the expansion and contraction of computer components, leading to stress and potential damage. This can result in loose connections, circuit board warping, or even solder joint failures.

Condensation and Moisture Damage:

Rapid temperature changes can cause condensation to form inside the computer which can lead to moisture damage and corrosion of electronic components, potentially causing system failures and data loss.
What to do:
Install environmental monitoring systems and attend to any issues that cause temperature fluctuations
Keep temperature at 75 degrees Fahrenheit or below
Keep humidity between 40-60%
Physical Access to your Data Center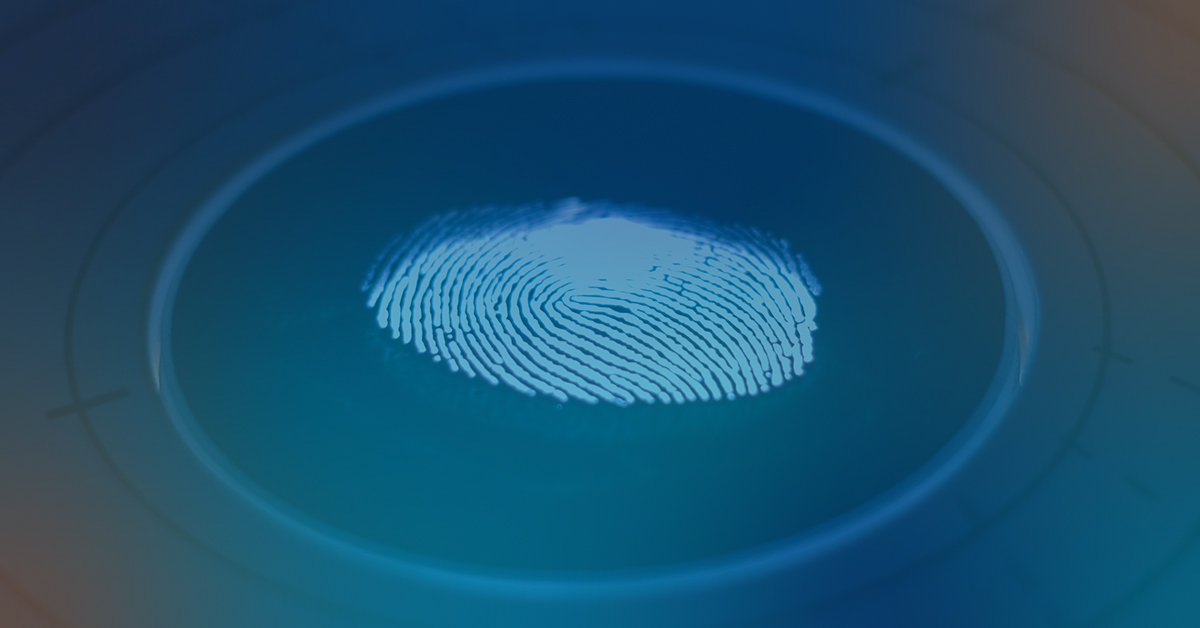 Photo by George Prentzas on Unsplash
Physical security and limited access are paramount for a data center due to the critical nature of the sensitive information and infrastructure it houses. Data centers store vast amounts of valuable data, ranging from personal and financial information to intellectual property, trade secrets, and proprietary business data. Protecting this data from unauthorized access, theft, and physical damage is essential to maintain the confidentiality, integrity, and availability of the stored information.
What to do:
Establish and enforce access policies
Limit number of employees with access to the data center based on roles and responsibilities
Implement access control measures such as biometric authentication (iris scan, fingerprint)
Install surveillance cameras and intrusion detection systems
Monitor and record all entries and exits
Make sure you have physical barriers, such as locked doors
Structured Cable Management
It's important that all the components of your data center are strategically connected to run optimally. A well- structured and organized cable system allows for:
Proper airflow – Unorganized cables disrupt airflow through the rack which can cause overheating or hot spots. (We know what that can do from the section on temperature and humidity.)
Prompt maintenance – It's easier to find and resolve issues when cables are easy to identify.
Safety – Unorganized cables are trip hazards and unlabeled or mislabeled cables could cause unintentional disconnections.
For more on structured data center cabling and best practices, visit this article on FS community.
Dust and Air Quality for your In-House Data Center
Excessive dust and particles in the air can cause detrimental effects on computers and their overall performance. Computers in dusty environments require more frequent cleaning and maintenance to ensure their optimal performance and longevity. Neglecting regular cleaning can exacerbate dust-related issues and lead to more severe consequences. Here are some potential issues that can occur:
Reduced Cooling Efficiency:

Dust accumulation inside computers can clog cooling fans and air vents, impeding airflow.
Restricted airflow leads to inadequate cooling and can cause components, such as the CPU and graphics card, to overheat.
Overheating can result in system instability, frequent crashes, and even permanent damage to hardware components.

Increased Noise Levels:

Dust accumulation on cooling fans can cause them to work harder, resulting in increased noise levels.
Dust buildup can also lead to vibrations within the computer, contributing to additional noise.

Impaired Performance and Sluggishness:

Dust settling on electronic components, such as the motherboard and memory modules, can interfere with their proper functioning.
Over time, the accumulation of dust can create a thermal insulating layer on heat sinks and other critical parts, reducing their ability to dissipate heat efficiently.
The combination of reduced cooling and thermal inefficiency can lead to decreased performance and system slowdowns.

Hard Drive Issues:

Dust particles entering the computer's enclosure can settle on the surface of hard drives and other storage devices.
Dust can interfere with the read/write heads, causing read/write errors and potentially leading to data corruption or loss.

Electrical Short Circuits:

In extreme cases, excessive dust can create a conductive layer on circuit boards or connectors, increasing the risk of electrical short circuits.Short circuits can cause system failures, damage to components, and even pose a fire hazard.
What to do:
Ensure you have proper ventilation and airflow systems
Regularly clean air filters and purifiers
Dust computers regularly
Redundant Network Connectivity
On rare occasions the your Internet provider may lose connectivity for a period of time due to power outages from storms, construction, or other incidents. If a constant Internet connection is vital to your business where what you can do:
Have a least two Internet providers–one primary and one back up
If possible, have diverse building entries for your wired Internet providers or use wireless as your backup
Configure your network to allow for automatic fail-over from the primary to the back up if there is a connectivity issue
Install network monitoring systems to track performance and assist in troubleshooting connection issues
Download the Data Center Health Checklist!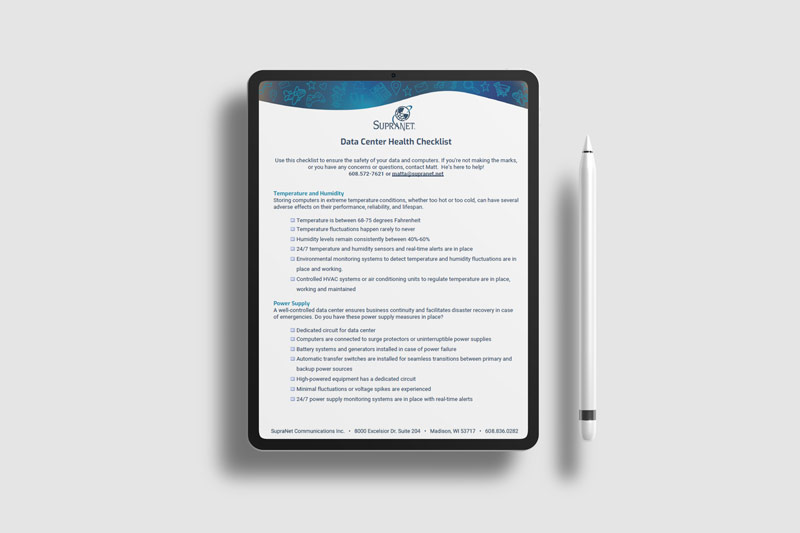 A well-maintained, environmentally controlled data center is more than just a technical facility. It's a home for some of your most valuable assets. It ensures smooth operations for your business, protects valuable information, promotes environmental responsibility, ensures compliance, supports community growth, and provides continuity in times of crisis. Make sure that you are prepared for the worst by putting your data center care at the top of your to-dos. If you don't think you're up for the housekeeping, find an offsite data center to ensure you're machines are safe and comfortable.
https://www.supranet.net/wp-content/uploads/2023/03/SupraNet-Logo-300_4C-300x300.png
0
0
SupraNet Team Member
https://www.supranet.net/wp-content/uploads/2023/03/SupraNet-Logo-300_4C-300x300.png
SupraNet Team Member
2023-08-17 16:19:42
2023-08-22 16:33:55
Seven Essentials for Data Center Maintenance + Data Center Health Checklist